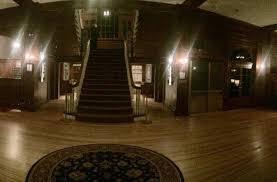 Ghosts that haunt the hotel.
Well, The Stanley Hotel is back in the new again! This hotel was the inspiration The Shining with Jack Nicholson, one of my all-time favorite movies.   On April 12, 2016 a man taking a panoramic shot of the grand staircase caught an apparition on film that he did not see when he took the pic. 
The Stanley, built in 1909 has a very haunted history and it is believed that the owners never really left the building. Their ghosts as well as others show up regularly and have been known to do everything from run a bath for you to inappropriate groping Tours are available if you would like to experience this for yourself.
Anyway, here is the pic. Let me know what you think of it.